RED AND GREEN STOP/GO FEEDBACK LIGHT
Our red and green stop/go feedback light improves line speed by giving students quick recognition that their finger scan was accepted. Simply plug the light into a USB port and the system will begin to use the light.
---
BENIFIT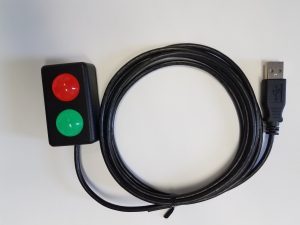 Allows for quick recognition in high noise environments
Visual recognition for hearing impaired
DESCRIPTION
The visual signal indicators are powered and controlled via the USB port.
Excellent on-off contrast.
Intensity, flash rate and duty cycle are programmable.
Self powered from the USB port. 100,000+ hour LEDs.
Dimensions are 2.4″ x 1.4″ x 1.0″H
Includes 2 Meter Black USB Cable.